One of our all-time favorite stars is now a mom launching her own business — find out what inspired her new line of baking kits.
By ActivityHero Staff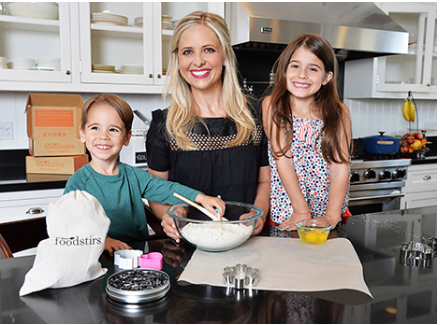 ActivityHero: What inspired you to take your kids to the kitchen?
Sarah Michelle Gellar: As a busy parent, I am always looking to find ways to engage in true quality time as a family. While I am not anti screen time, I do believe a balance is necessary. My kids were showing a great interest in the kitchen, not just the actual eating but the preparation as well. I've always been aware of the benefits that can be found by engaging in the kitchen, from the development of fine and gross motor skills to language to mathematical and scientific knowledge and, most importantly, true connection. It has even been found to lower the rate of depression and obesity. (My favorite study was one done on Rhodes Scholars where the common link was found to be family dinners rather than socioeconomic status, religion, or ethnicity.)
My kids, not surprisingly, were really interested in baking. Since complete scratch baking overwhelmed me, I looked to my grocery store for help. I was shocked by the ingredients I found in the traditional mixes: bleached flour, heavy salt, and not to mention the dyes and preservatives.
AH: So you decided to create something better?
SMG: Inspired to create better options, Foodstirs was born. We consider our company the answer for "modern bakers." At the heart of our company, our goal is to offer consumers a better baking experience focused on amazing taste, contemporary nutrition (non-GMO ingredients, organic flour, biodynamic sugar, no artificial dyes and flavors), and creating real connections. We offer a range of not just our signature mixes, but also our creative kits.
AH: Any tips for other moms and dads who want to get their kids more interested in cooking and food?
SMG: Cooking and especially baking is now part of our everyday routine. We love to come up with new ideas to make as a family. The supermarket trip is no longer a chore but a learning lab, where we discuss labels and ingredients and look for inspiration. And the time we spend together in the kitchen, being creative, is priceless.
We've put together a special offer just for ActivityHero where you can get 30% OFF your first purchase – just use promo code ACTIVITYHERO.
AH: Wow! Thanks, Sarah Michelle! And just a reminder: If your aspiring chef wants to try cooking classes and camps, search ActivityHero for options near you.