During the school year, kids at LAUSD, LBUSD, BHUSD and other school districts have more than 6 weeks off for school breaks! Find out which holiday dates they have off.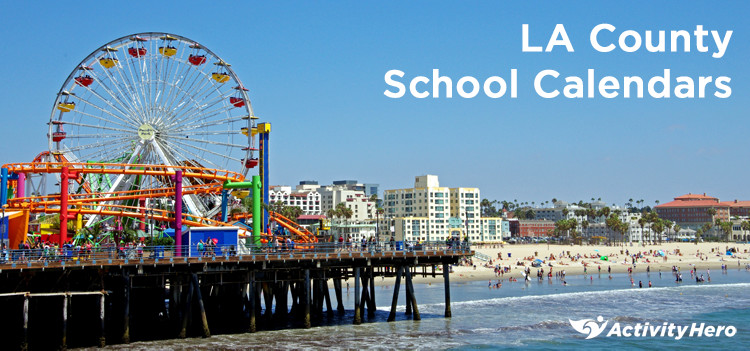 Wondering when the kids will be out of school? All the dates for Spring Break, staff development days and breaks off you need are below for the LAUSD, LBUSD, BHUSD and more 2016-2017 and 2017-2018 calendars.
Thanksgiving and Christmas holiday breaks are great times for kids to explore interests and discover new ones in one-day workshops or camps.  
Here is a quick recap of the LA County school year:
The first day of school for LA districts is between August 14 to September 7.
September 21 is a local holiday for Beverly Hills, Santa Monica, Redondo Beach and Long Beach districts.
Thanksgiving break is a week long for Long Beach, Redondo Beach, Hermosa Beach, and more.
LA winter breaks are from December 18 to January 5 for most schools.
Spring break is early for Beverly Hills school district, but in most other LA schools, spring break is either March 26 – 30 or April 2 – 6.
Last day of school is June 21 or earlier for all schools.

>> Find Los Angeles camps for these holidays
Los Angeles Unified School District (LAUSD) Calendar
First Day of School 8/15/2017
Labor Day 9/1/2017 – 9/4/2017
Veterans Day 11/10/2017
Thanksgiving 11/23/2017 – 11/24/2017
Winter Break 12/18/2017 – 1/5/2018
Martin Luther King Day 1/15/2018
President's Day 2/19/2018
Spring Break 3/26/2018 – 3/30/2018
Cesar E. Chavez Birthday 4/2/2018
Memorial Day 5/28/2018
Last Day of School 6/7/2018
Arcadia Unified School District (AUSD) Calendar
First Day of School 8/17/2017
Labor Day 9/4/2017
Professional Development Day 10/6/2017
Veterans Day 11/10/2017
Thanksgiving 11/20/2017 – 11/25/2017
Winter Break 12/25/2017-1/6/2018
Martin Luther King Day 1/15/2018
President's Day 2/19/2018
Spring Break 4/2/2018 – 4/7/2018
Memorial Day 5/28/2018
Last Day of School 6/6/2018 (find summer camps)

Beverly Hills Unified School District (BHUSD) Calendar
First Day of School 8/14/2017
Labor Day 9/4/2017
Local Holiday 9/21/2017 – 9/22/2017
Veterans Day 11/10/2017
Thanksgiving 11/23/2017 – 11/25/2017
Winter Break 12/21/2017 – 1/6/2018
Martin Luther King Day 1/15/2018
Lincoln Day 2/12/2018
President's Day 2/19/2018
Spring Break 3/19/2018 – 3/24/2018
Memorial Day 5/28/2018
Last Day of School 6/1/2018 (find Beverly Hills summer camps)
Burbank Unified School District Calendar
First Day of School 8/14/2017
Labor Day 9/4/2017
Veterans Day 11/10/2017
Thanksgiving 11/22/2017 – 11/24/2017
Winter Break 12/25/2017 – 1/5/2018
Martin Luther King Day 1/15/2018
Lincoln Day 2/12/2018
President's Day 2/19/2018
Spring Break 3/19/2018 – 3/24/2018
Memorial Day 5/28/2018
Last Day of School 6/4/2018
Culver City Unified School District (CCUSD) Calendar
First Day of School 8/14/2017
Labor Day 9/4/2017
Veterans Day 11/10/2017
Thanksgiving 11/22/2017 – 11/24/2017
Winter Break 12/25/2017 – 1/5/2018
Martin Luther King Day 1/15/2018
President's Day 2/19/2018
Spring Break 3/26/2018 – 4/7/2018
Memorial Day 5/28/2018
Last Day of School 6/15/2018 (find summer camps)
El Segundo Unified School District Calendar
First Day of School 8/29/2017
Labor Day 9/4/2017
Veterans Day 11/10/2017
Thanksgiving 11/20/2017 – 11/24/2017
Winter Break 12/18/2017 – 1/1/2018
Martin Luther King Day 1/15/2018
Lincoln Day 2/12/2018
President's Day 2/19/2018
Inservice 3/9/2018
Spring Break 4/2/2018 – 4/6/2018
Memorial Day 5/28/2018
Last Day of School 6/15/2018 (find summer camps)
El Segundo Unified School District Calendar
First Day of School 8/29/2017
Labor Day 9/4/2017
Veterans Day 11/10/2017
Thanksgiving 11/20/2017 – 11/24/2017
Winter Break 12/18/2017 – 1/1/2018
Martin Luther King Day 1/15/2018
Lincoln Day 2/12/2018
President's Day 2/19/2018
Inservice 3/9/2018
Spring Break 4/2/2018 – 4/6/2018
Memorial Day 5/28/2018
Last Day of School 6/15/2018 (find summer camps)
Glendale Unified School District Calendar
First Day of School 8/7/2017
Labor Day 9/4/2017
Veterans Day 11/10/2017
Thanksgiving 11/22/2017 – 11/24/2017
Winter Break 12/25/2017 – 1/5/2018
Martin Luther King Day 1/15/2018
President's Day 2/19/2018
Spring Break 3/19/2018 – 3/24/2018
Memorial Day 5/28/2018
Last Day of School 5/24/2018
Hermosa Beach Unified School District (HBUSD) Calendar
First Day of School 9/6/2017
Labor Day 9/4/2017
Veterans Day 11/10/2017
Thanksgiving 11/20/2017 – 11/24/2017
Winter Break 12/21/2017 – 1/5/2018
Martin Luther King Day 1/15/2018
Lincoln's Birthday 2/12/2018
President's Day 2/19/2018
Spring Break 4/2/2018 – 4/6/2018
Memorial Day 5/28/2018
Last Day of School 6/21/2018 (find summer camps)
La Canada-Flintridge Unified School District Calendar
First Day of School 8/14/2017
Labor Day 9/4/2017
Veterans Day 11/10/2017
Thanksgiving 11/20/2017 – 11/24/2017
Winter Break 12/22/2017 – 1/5/2018
Martin Luther King Day 1/15/2018
President's Holiday 2/16/2018 – 2/19/2018
Spring Break 3/26/2018 – 3/31/2018
Memorial Day 5/28/2018
Last Day of School 5/31/2018
Manhattan Beach Unified School District (MBUSD) Calendar
First Day of School 8/23/2017
Labor Day 9/4/2017
Local Holiday 9/21/2017
Veterans Day 11/10/2017
Thanksgiving 11/20/2017 – 11/25/2017
Winter Break 12/22/2017 – 1/6/2018
Martin Luther King Day 1/15/2018
President's Holiday 2/19/2018 – 2/23/2018
Spring Break 4/2/2018 – 4/6/2018
Memorial Day 5/28/2018
Last Day of School 6/14/2018 (find summer camps)
Palos Verdes Peninsula Unified School District (PVPUSD) Calendar
First Day of School 8/28/2017
Labor Day 9/4/2017
Veterans Day 11/10/2017
Thanksgiving 11/23/2017 – 11/24/2017
Winter Break 12/18/2017 – 1/1/2018
Martin Luther King Day 1/15/2018
President's Day 2/19/2018
Spring Break 4/2/2018 – 4/7/2018
Memorial Day 5/28/2018
Last Day of School 6/7/2018 (find summer camps)
Redondo Beach Unified School District (RBUSD) Calendar
First Day of School 8/30/2017
Labor Day 9/4/2017
Local Holiday 9/21/2017
Veterans Day 11/10/2017
Thanksgiving 11/20/2017 – 11/24/2017
Winter Break 12/18/2017 – 1/1/2018
Martin Luther King Day 1/15/2018
President's Day 2/16/2018 – 2/20/2018
Spring Break 4/9/2018 – 4/13/2018
Memorial Day 5/28/2018
Last Day of School 6/20/2018 (find summer camps)
San Marino Unified School District (SMUSD) Calendar
First Day of School 8/15/2017
Labor Day 9/4/2017
Veterans Day 11/10/2017
Thanksgiving 11/22/2017 – 11/24/2017
Winter Break 12/25/2017 – 1/8/2018
Martin Luther King Day 1/15/2018
President's Day 2/15/2018 – 2/20/2018
Spring Break 3/26/2018 – 3/30/2018
Memorial Day 5/28/2018
Last Day of School 5/31/2018 (find summer camps)
Santa Monica-Malibu Unified School District (SMMUSD) Calendar
First Day of School 8/22/2017
Labor Day 9/4/2017
Local Holiday 9/21/2017
Veterans Day 11/10/2017
Thanksgiving 11/23/2017 – 11/24/2017
Winter Break 12/25/2017 – 1/5/2018
Martin Luther King Day 1/15/2018
President's Day 2/19/2018
Spring Break 3/26/2018 – 4/6/2018 (find Spring Break Camps)
Memorial Day 5/28/2018 (find one day camps)
Last Day of School 6/8/2018 (find Santa Monica summer camps)
South Pasadena Unified School District (SPUSD) Calendar
First Day of School 8/16/2017
Labor Day 9/4/2017
Professional Development Day 10/16/2017
Veteran's Day 11/10/2017
Thanksgiving 11/23/2017 – 11/24/2017
Winter Break 12/25/2017 – 1/5/2018
Martin Luther King Day 1/15/2018
President's Day 2/16/2018 – 2/20/2018
Spring Break 4/2/2018 – 4/6/2018
Memorial Day 5/28/2018
Last Day of School 6/5/2018 (find summer camps)
Torrance Unified School District (TUSD) Calendar
First Day of School 9/7/2017
Labor Day 9/4/2017
Veterans Day 11/10/2017
Thanksgiving 11/23/2017 – 11/24/2017
Winter Break 12/22/2017 – 1/1/2018
Martin Luther King Day 1/15/2018
Lincoln's Birthday 2/12/2018
President's Day 2/19/2018
Spring Break 3/26/2018 – 3/30/2018
Memorial Day 5/28/2018
Last Day of School 6/21/2018 (find summer camps)